Ambulance traffic jams 'are risking lives', warns union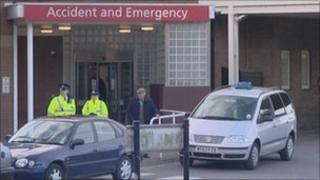 Patients' lives are being put at risk because of "ambulance traffic jams" at Greater Manchester hospitals, a union has warned.
The union Unison says paramedics are sometimes unable to offload patients because of delays at A&E departments.
North West Ambulance Service called for a review after two elderly women had to be treated by doctors outside the Royal Oldham Hospital.
Pennine Acute Trust, which runs the hospital, has apologised for the wait.
The warning came from Unison regional manager Stephanie Thomas who said the situation was getting worse.
"Over the past couple of months, we've seen an increase in the waiting times at hospitals and we've asked for a review of what the reason for that is," she said.
"We can't have a situation where ambulances are stuck in traffic jams outside a hospital waiting to offload a patient who needs urgent care."
'Vicious circle'
An investigation started after two elderly women were treated by doctors whilst still in the ambulance outside the Royal Oldham Hospital because the A&E department was full.
Current ambulance response times for life-threatening emergencies currently stand at eight minutes.
The women were in the ambulances for seven and 20 minutes respectively before being taken inside, the hospital said.
"If you are waiting outside the hospital for an additional 20 minutes, you're not going to get the care quickly enough," added Ms Thomas.
Both women, in their mid to late 80s, died a few days later.
Dr Nick Gili, A&E consultant at The Royal Oldham Hospital, apologised for the delays but added that the department had been "particularly busy" that night.
He added that the hospital was working with North West Ambulance Service and NHS Oldham to see if improvements can be made to prevent this happening again.
Unison has blamed bed blocking at the hospital for the delays, a problem which, it said, should be addressed urgently.
"We need an urgent review of what is causing the increase in waiting times," said Ms Thomas.
"If you get a blockage in A&E because you can't get people on to hospital wards because patients aren't being discharged, it's a vicious circle," she added.