Ryan Giggs' game 'will not suffer' says journalist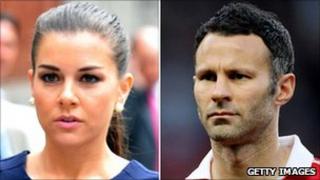 A veteran football writer who has known Ryan Giggs since he was 18 said his game would not suffer after he was exposed over an alleged affair.
Giggs was named in Parliament as the married footballer exposed on Twitter as having an injunction over an alleged affair with a reality TV star.
David Meek, the Manchester Evening News United reporter for 37 years, said Giggs was "not easily knocked over".
United play Barcelona in Saturday's Champions League final at Wembley.
'Evil spleen'
Mr Meek said that any fans who wanted to voice their criticism of Giggs should "get it over with" at Gary Neville's testimonial match at Old Trafford on Tuesday.
Giggs will be joined by former United stars including David Beckham.
Mr Meek said: "If there are any people looking to vent their evil spleen at him then they can get it out of their systems tonight.
"Giggs is a strong character and he always has been in all his dealings.
"I think if anything this will be a little bit of a wake-up call that he's really got to produce the goods on the field and he'll try even harder.
"He's not easily knocked over and I think he's got his private life and he's got his football life and sometimes they cross over because we're a prurient nation.
"I think Ryan should take the view that there's interest in his private life, but really it's none of our business."
Publicist Max Clifford, who represents ex-Big Brother contestant Imogen Thomas, said that if Giggs had not taken out a super-injunction, the alleged affair between the two would probably not have become public.
Mr Clifford said: "It's only because of that, and of course the fact that, in that super-injunction that he got to protect his privacy and that of his family, he named Imogen, that the whole thing started down that trail that led to it coming out in Parliament."
Scottish paper
The 37-year-old midfielder is United's most senior player, having appeared in 613 games for the club since 1990.
Lib Dem MP John Hemming named Giggs during an urgent Commons question on privacy orders.
Using parliamentary privilege to break the court order, he said it would not be practical to imprison the 75,000 Twitter users who had named the player.
The High Court has again ruled that the injunction should not be lifted.
It rejected two attempts on Monday to overturn the ban, the first after a Scottish paper identified the footballer on Sunday and the second after Mr Hemming's action.
The player obtained the order against ex-Big Brother contestant Imogen Thomas, who is a former Miss Wales, and the Sun newspaper.
The footballer's lawyers have also obtained a High Court order asking Twitter to reveal details of users who had revealed his identity after thousands named him.
Giggs made 64 appearances for Wales before retiring from international football in 2007, and was awarded an OBE that year.
He was named BBC Sports Personality of the Year in 2009.