Salford murder victim Clare Wood 'was not protected'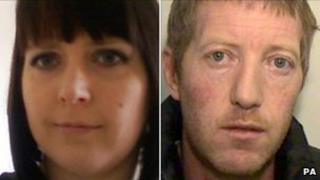 A woman who was strangled and set on fire by a violent and obsessive ex-boyfriend was not given enough police protection, an inquest has heard.
Clare Wood had made several complaints to police about George Appleton before her death in Salford in 2009.
Appleton, who had a history of violence against women, was still able to get into her home and kill her, Bolton Coroner's Court was told.
Michael Brown, the victim's father, told the hearing: "Mistakes were made."
The Independent Police Complaints Commission (IPCC) concluded Miss Wood, 36, had been let down by "individual and systemic" failures by Greater Manchester Police (GMP).
'Instant dislike'
In the months before her murder she had repeatedly contacted GMP claiming Appleton had caused criminal damage, harassed, threatened to kill and sexually assaulted her.
She had a panic alarm installed at her home after making an allegation of attempted rape against Appleton, who was arrested a week before her death for smashing down her front door.
Appleton, from Adelphi Court, Salford, was known to search for women on online dating websites and social networking sites, including Facebook.
Mr Brown told the inquest: "I'm not here for anyone's crucifixion.
"I'm here to help ensure that no other father has to sit here because the same mistakes have been made - and I believe mistakes were made.
"My daughter didn't get the protection she needed, when she needed it."
Mr Brown, originally from Aberdeen but now living in Batley, West Yorkshire, said he had taken "an instant dislike" to Appleton, 40, who his daughter had met via Facebook in April 2008.
"There was an aura about this lad I could not take to," he told the court.
'Gentle person'
Ms Wood told her father Appleton had a criminal record for motoring offences. He actually had a history of violence against women.
The court heard he had been jailed for three years in 2002 for harassing another woman and for six months a year earlier after breaching a restraining order.
"Had I known about his criminal record, I would have marched my daughter back to Batley myself," Mr Brown added.
Ms Wood spent Christmas 2008 with her father in Batley before returning to her home in Salford.
In early February, Mr Brown had trouble contacting his daughter and asked his son-in-law to visit her home.
Mr Brown, breaking down in tears, said: "The next thing I know, I'm leaving my place of work, HMP Leeds, I get a telephone call to say... my daughter's body had been found.
"She was the most kind, gentle, generous person you could ever wish to meet.
"He has stolen the most precious thing of all, a mother to my granddaughter."
Police began hunting for Appleton after Miss Wood's body was found at her home on St Simon Street, Salford.
He was found hanged in a derelict pub six days later. An inquest into his death found he committed suicide.
Bolton Coroner Jennifer Leeming said the inquest, scheduled for three days, would attempt to establish what lessons could be learned from the case.
The hearing continues.