Investigation after two die following A&E delay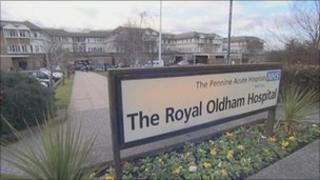 An investigation is under way following the deaths of two patients who had to be treated in ambulances outside a hospital because its A&E unit was full.
The women, both in their 80s, had been taken to the Royal Oldham Hospital on Monday night. One died the following day and the other three days later.
They were in the ambulances for seven and 20 minutes respectively before being taken inside, the hospital said.
It said A&E was particularly busy that night and apologised for the delay.
Dr Nick Gili, A&E consultant and clinical director of unscheduled care, said: "Our A&E team were put on stand-by by the ambulance service to receive these patients and their ambulances were met on arrival at our hospital by both medical and nursing staff.
"These clinicians were then able to commence appropriate treatment in the ambulance prior to transferring the patients in question to the department.
"All patients are dealt with in order of their clinical priority, with the majority of our patients being seen, treated, transferred or discharged within national standards.
"If an A&E is put on stand-by to receive seriously ill patients then the ambulance is met by both medical and nursing staff.
"Patient safety is our top priority. We are working with North West Ambulance Service and NHS Oldham as a priority to look into how we can make sure that patients are admitted to A&E quickly on the small number of occasions when A&E departments experience very high levels of demand and if any improvements can be made to avoid delays and prevent this happening again".