Maine Road: The community Manchester City left behind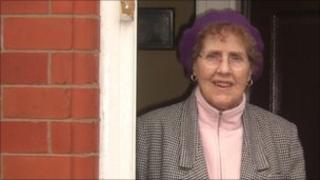 "When I think about it, it was the stadium that brought us all together and now that atmosphere has gone."
Renee Lukes, 83, was a neighbour of Manchester City for 30 years, living right opposite their old Maine Road ground.
She can still vividly remember the day the club brought home the League Cup in 1976, its last piece of silverware before this year's FA Cup success.
She said: "The last time they won, they actually came down my street in an open top coach with the cup.
"Everyone here was so excited."
Yet, when the Blues parade the FA Cup on Monday, they will not be passing near Ms Lukes' front door.
Instead they will head from central Manchester to their home at Eastlands - about three miles away on the other side of the city centre.
'David Bowie'
The club spent 80 years at Maine Road in the heart of Moss Side in Manchester, surrounded by red-brick terraced houses until its move in 2003.
Ms Lukes said: "Fathers would take their boys and girls to matches, it was a real family club."
However, the stadium was also known for hosting live music concerts.
A keen music fan, Ms Lukes said: "I remember when David Bowie played his Glass Spider Tour at the stadium.
"We all took our drinks and our tables and chairs outside and we sang and drank."
Despite the happy memories of the past Ms Lukes said: "I don't know anybody anymore, it's all changed, quite a few people left when the stadium closed down."
However, not all of the local residents have fond memories of Maine Road.
William Diqua, 64, said that when City played at home, the alleyways and passages that led to Maine Road swarmed with supporters.
"On match days, the pure filth that was left behind was unbelievable - beer cans, empty bottles, chip papers.
"I think its changed actually for the better, you don't get the people hanging around anymore.
"A lot of people were happy when the stadium closed."
Maine Road was demolished in 2004, a year after it closed its doors to fans. Part of the demolition team was Rob Hale, a 24-year-old Manchester City season ticket holder.
"When we first started work here, I thought: 'Oh God, I used to watch City here,' and to see it first get knocked down was hard.
"But City are moving up and so has their stadium."
With up to 35,000 supporters gathering each match day, local businesses in Moss Side thrived.
Byron Gordon ran a makeshift car park on a piece of land he rented from Mosscares Housing Association (MHA).
He said: "People from out of town wanted to know their car was going to be there when they were going home, so they didn't gamble parking on the streets."
Mr Gordon stopped renting the land after the ground closed in 2003 and he said: "MHA have built houses on it now."
Ashok Kumar ran the local newsagent on Claremont Road for 28 years serving fans, staff and even players.
He said: "In the end we lost something, business and atmosphere, but hopefully with the new houses it will be the same again."
In Maine Road's place, modern white fronted houses and apartments are being built.
Although the former ground remains a building site, Sue Thornley from Prospect Homes said: "Roughly 62 houses are already occupied by a complete mixed community with different backgrounds and professions."