Manchester and Bolton to host Olympic torch relay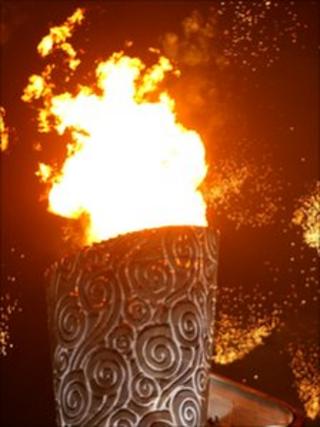 Manchester and Bolton have welcomed the news that both places are to be part of the 2012 Olympic torch relay.
The flame will be carried across the UK by 8,000 torch bearers in the official run-up to the London Games.
Both councils are planning evening events next year to celebrate its arrival.
Manchester - which is to host Olympic football events at Old Trafford - said the torch would "ignite considerable local interest".
The Olympic flame arrives in the UK from Greece on 18 May 2012 and begins a 70-day journey across the UK starting at Land's End, Cornwall.
With exactly a year to go, London 2012 chairman Lord Coe announced the route it will take which includes stop-overs in Bolton (31 May) and Manchester (23 June).
Councillor Mike Amesbury, of Manchester City Council, said it was great news for the city.
"I'm sure as the Olympics draw nearer the arrival of the Olympic torch will ignite considerable local interest."
Back in 2002, Manchester hosted the Commonwealth Games and its own version of the Olympic flame, the Queen's baton relay.
Mr Amesbury said that, as a city with a proud sporting tradition, Manchester was an obvious choice.
"We like to think that Manchester is a city which has long carried the torch for sport," he said.
"We are proud to be playing a part in the Olympic torch relay and it's only fitting that we will host an event to welcome the Olympic torch."
Wenlock and Mandeville
The Olympic flame will first come to Greater Manchester on 31 May when it arrives in Bolton.
Council leader Cliff Morris said they were "absolutely delighted".
"An event like this is a great opportunity for us to showcase Bolton to a worldwide audience and demonstrate our ability to host major events.
"It's also the opportunity for people to connect with a global event on their doorstep and shows that the Olympics 2012 are not just about London."
Bolton already boasts a connection the 2012 Olympics.
The official Olympic and Paralympic mascots, Wenlock and Mandeville, came from Bolton steel firm Watson Steel Structures, which supplied thousands of tonnes of steel for the Olympic Stadium.
Mr Morris said the council was currently working on a route for the torch through Bolton and planning the evening celebrations.
"The show will feature local communities and showcase our culture and heritage," he added.