Manchester City and United fans promised two parades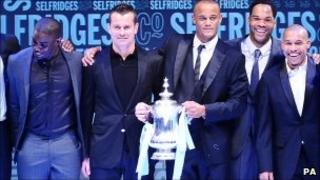 Manchester is preparing to stage two football victory parades to celebrate United winning a 19th Premier League title and City winning the FA Cup.
City will parade the cup on an open top bus between the city centre and Eastlands stadium on 23 May.
United's celebrations will take place on the morning of 30 May, a bank holiday.
The city council said the clubs were "a huge source of pride" and helped promote Manchester worldwide.
Mocking banner
United could also be celebrating winning the Champions League if they are successful against Barcelona on 28 May.
City's last trophy was the 1976 League Cup, an achievement that United fans have marked with a mocking banner inside Old Trafford showing the number of years that have elapsed since.
Some city fans have vowed to now rip it down.
Speaking after City's win, the club's assistant manager, and former United assistant manager Brian Kidd, said: "I'm a Manchester lad and I'm so proud in some small way to have been associated with Manchester United and Manchester City and to come back to Wembley and get a trophy is absolutely brilliant.
"It's about wonderful fans and all credit to Manchester."
Sir Richard Leese, leader of Manchester City Council, said: "Manchester United winning their 19th top flight title is a remarkable and historic achievement and we're sure fans will come out in their droves to celebrate and acclaim their heroes and I'm sure 30 May will be a memorable day for the whole city.
"City winning the FA Cup is a joyous occasion for many people in Manchester, myself included.
"It's only fitting that we host a public celebration of that achievement so fans can share the moment and enjoy the success.
"Manchester's football clubs are a huge source of pride, helping to project the city's name around the world, and we expect some unforgettable scenes on 23 May as thousands of City fans gather to acclaim their team."
City players showed off the FA Cup for the first time at a charity fashion show called Fashion Kicks at Lancashire County Cricket Club.