Haiti earthquake rescue dog Echo up for hero award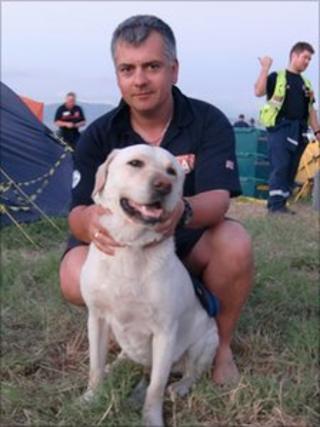 A rescue dog has been shortlisted for a bravery award after searching for people trapped in the Haiti earthquake.
Echo - who is part of Greater Manchester Fire Service - worked for 10 days in 40C temperatures amid collapsing buildings and aftershocks.
The Dogs Trust charity is considering the seven-year-old Labrador for its 2011 Hero Dog Award.
Echo's handler Mike Dewar said it recognised all rescue dogs who "put their lives on the line."
Echo carried out 45 searches in the aftermath of the 2010 earthquake, seeking out survivors buried in the rubble.
"The biggest problem we faced out there was the intense heat," said Mike Dewar, canine team manager for the Greater Manchester Fire Service.
"When we left Manchester it was -2C, but when we got to Haiti it was like 100 degrees [Fahrenheit] plus and the dog really struggled.
"But there was also broken glass, twisted metal - it was just about the worst case scenario you could think up for a dog, really."
'Unsung heroes'
On the seventh day, Echo became ill with heat exhaustion and had to be put on a drip.
Such was the devastation in Haiti that 230,000 people died, and Echo was unable to find any survivors.
Mr Dewar, 42, said he was proud that the dog's bravery and dedication were being acknowledged.
"I'm really pleased to be honest," he said.
"The dogs in the UK fire service are the unsung heroes really and it's nice to get some recognition for the hard work the handlers and the dogs put in."
The Bolton fire officer added that Echo was also the first dog on the scene following the Irlam gas explosion in November last year where he was sent in to search for a child who was thought to be trapped.
"What we've got to remember is that we're asking the dogs to go to places where we don't want to because the buildings are unsafe, they may collapse at any minute," he said.
"The dogs are literally putting their lives on the line because we ask them to."
"I can't think of any greater prize for a dog whose job it is to rescue human beings."
Clarissa Baldwin, chief executive of the animal charity Dogs Trust, praised Echo's efforts as "quite incredible".
"Dogs do get a bad press and what we are trying to do is to recognise what dogs do for humans," she said.
Winners of the Dogs Trust 2011 honours will be announced on 1 June.