Greater Manchester Police 'infiltrated' terror gang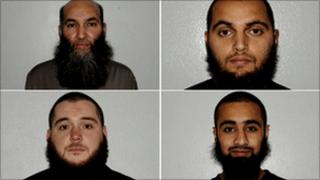 An undercover police officer has told a court how he pretended to be an Islamic convert to gain the trust of a gang suspected of recruiting terrorists.
"Ray", who gave evidence at Manchester Crown Court behind a curtain, was part of an operation to expose the gang, with another colleague "Simon".
It is alleged the gang recruited potential terrorists through bookstalls and mosques across Manchester.
Four Manchester men deny several charges under the Terrorism Act.
Munir Ahmed Farooqi, 54, and his son Harris Farooqi, 27, both of Victoria Terrace, Longsight, Matthew Ronald Newton, 29, of Stockport Road, Levenshulme and Israr Hussain Malik, 22, of Bowdon Avenue, Fallowfield face 10 counts between them.
These involve soliciting to murder, dissemination of terrorist publications and engaging in conduct in preparation for acts of terrorism.
The four are alleged to have used an Islamic bookstall on Longsight market to encourage young men to become Muslims and then to radicalise them.
Bedsit loner
The prosecution said their recruits included the undercover officers.
Ray claimed to be a loner living in a bedsit with few prospects while Simon's story was of a chronic alcoholic who had recently arrived in the city.
Manir Farooqi and Matthew Newton are said to have befriended the officers after meeting them at the bookstall.
Ray told the court the pair had asked him whether he was prepared to convert to Islam and when he said he was, he was then told he was now their Muslim brother and was given the name Abdul Rahmen.
The prosecution case is that this was a prelude to radicalisation and going overseas to take part in acts of terror.
The trial continues.