Labour takes control of Rochdale Council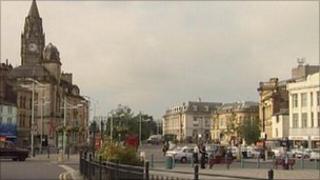 Labour has taken overall control of Rochdale Council after two independent councillors joined the party.
Councillors Peter Davison and Barbara Todd had been members of the Independent Alliance, having resigned from the Liberal Democrats last year.
Ms Todd joined Labour on Monday and Mr Davison followed suit on Tuesday, Labour leader Colin Lambert said.
The final member of the Independent Alliance, Councillor Patricia Flynn, has joined the Conservatives, he said.
There are now 31 Labour councillors, 18 Tories and 11 Lib Dems.
Last December, nine Lib Dems resigned from the party, which led to Labour taking minority control of the council.
'Strong hand'
"I am pleased we can now bring the stability the borough deserves and start dealing with the difficult situation Rochdale Council has found itself in," Mr Lambert said.
"We are facing a potential shortfall of £82m in the coming years - that needs a clear and strong hand to deal with it."
Earlier, it was revealed Councillor Peter Evans, who had represented Littleborough Lakeside for 15 years, had defected from the Lib Dems to the Tories.
He cited the Lib Dems' "continually fractious behaviour" of some fellow party members as the reason behind his decision.
Lib Dem leader Councillor Irene Davidson said Mr Evans had "a good point."
She added: "There are still some factions within the group that seem to want to pull it apart."
"It is very sad. He was one of our very best councillors."