Wigan murderer's minimum term reduced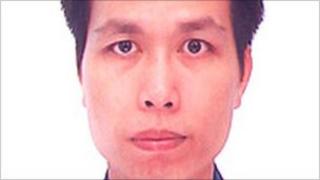 A man serving life in prison for his part in the murder of a Chinese restaurant owner in 2005 has had the minimum term of his sentence cut.
Joe Sankey, 21, of Wigan, Greater Manchester, was 15 when he and three other teenagers murdered 41-year-old Michael Chen in Wigan in April 2005.
He asked for a review of his tariff as he had made "exceptional progress".
His tariff was cut from nine years and nine months to eight years and six months at the High Court.
At his trial at Manchester Crown Court in 2005, judge Mr Justice Royce said the four teenagers had acted "worse than a pack of wild dogs".
'Unforeseen progress'
The judge also handed mandatory life sentences to Anthony Dunleavy, then 17, Jason Hughes and Jamie Stephen, then both 16, who were also from Wigan and also convicted of murder.
He set minimum terms of between eight and a and 10 half years.
Mr Justice Burton said Sankey had asked for a review of his minimum term on the basis that he had made "exceptional and unforeseen progress".
The judge agreed that Sankey had made "exceptional progress" but said there was "more work still to be done".
He recommended for the tariff to be reduced, and said Justice Secretary Ken Clarke had agreed to follow his recommendation.