Ex-Taliban fighter in 'jihad recruitment bid'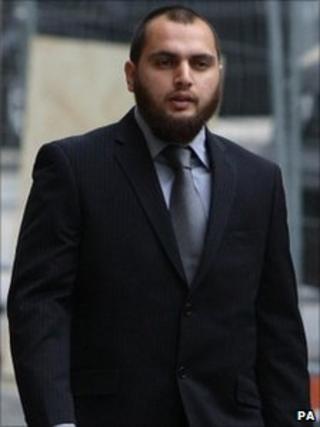 A former Taliban fighter tried to recruit undercover police officers in Manchester to fight in a holy war in Pakistan or Afghanistan, a court heard.
Munir Farooqi, 54, had been an "active terrorist" with the Taliban before being jailed in Afghanistan in 2001, Manchester Crown Court was told.
He then flew to Britain, where he allegedly turned his Longsight home into a "centre for propaganda".
Mr Farooqi and three other men deny a total of 10 terror offences.
His son, Harris Farooqi, 27, British Muslim convert Matthew Newton, 29, and Israr Malik, 22, all from Greater Manchester, are also on trial.
The terror charges include disseminating terrorist publications, preparing for acts of terrorism and soliciting to murder.
The court heard how Mr Farooqi and his son used the basement of the family's four-bed terrace house to produce DVDs and CDs about radical Islam.
Mr Farooqi was running an Islamic bookstall in Manchester when he was approached by the undercover officers, identified only by the pseudonyms Ray and Simon, in October 2008.
They pretended to be at a low ebb in their lives and interested in Islam, but wore secret recording devices as they were "groomed" and "brainwashed" by Munir, his son and two others, Andrew Edis, prosecuting, told the court.
Mr Newton and Mr Malik both worked at the stall and were involved in recruiting and trying to radicalise the officers, it was alleged.
The court heard how they befriended the officers but after trust was built up the "true purpose" of the relationship was revealed.
The case continues.