Stockport becomes hung council after Lib Dem losses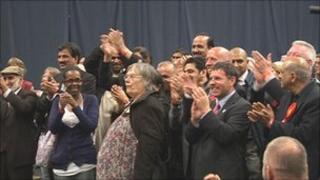 The Liberal Democrats have lost control of Stockport Metropolitan Borough Council with defeat in four seats.
The Conservative Party gained two seats and Labour three, with an independent councillor also losing.
The Lib Dems are the largest single party on the council but have already ruled out a coalition with the Conservatives.
Labour celebrated taking control of Bolton, one of their target councils, and Oldham.
The party won five seats in Bolton, taking three from the Lib Dems, one Tory and an independent. The party now has 35 seats, the Tories 20 and the Lib Dems five.
Labour leader Cliff Morris described the result as "exhiliarating".
He said: "We've got some young people who have got on and that's what's very, very pleasing. The ones who have won the seats, four out of five are in their 20s, early-30s."
'Paid the price'
In Stockport, the elections ended a 12-year reign for the Liberal Democrats, leaving a hung council with 31 Lib Dems, 16 Labour, 11 Conservatives and five independents.
Lib Dem council leader Dave Goddard said it was "disappointing" to lose control of the council saying they had "paid the price of being in government".
"We are still, by a long way, the largest party in this town and we will be talking to any of the parties who want to discuss with us," he said.
However, asked whether he would consider a Lib Dem-Conservative coalition, Mr Goddard replied: "Not while I draw breath."
In Manchester, Labour retained control of the city council, taking all of the Lib Dem seats it contested, including that of Lib Dem leader Simon Ashley. Labour gained 13 seats while the Lib Dems lost 11.
"Many good Lib Dem councillors have lost their seats because we have been punished for being in national government," said Mr Ashley.
"Both myself and my father before me have served as a councillor for Gorton South ward for 19 years - it has been an honour."
'Deserves better'
Labour exceeded party expectations in Oldham, gaining seven seats to take control of the authority.
Leader Jim McMahon, 30 - who was elected to his seat in 2003 - is now thought to be one of the youngest council leaders in the country.
"Oldham deserves better than its current political masters and we've got new ideas, a fresh approach and we think we're relevant to the people of Oldham," he said.
Labour also strengthened its grip on Salford, taking two seats apiece off the Tories and Lib Dems and one from an independent.
Although Labour gained seven more seats in Rochdale, it is still a council with no overall control.
The party also held on to Wigan where it gained seven more seats, as well as retaining Tameside.
The Conservatives retained control of Trafford.