Denis Law starts Manchester Shine cancer charity walk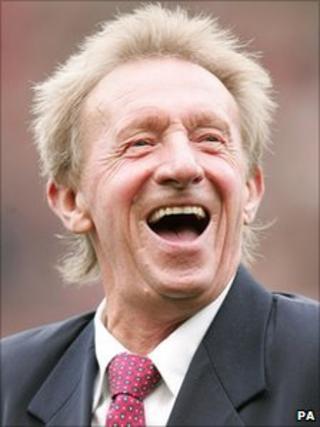 Former Manchester United striker Denis Law has set more than 3,500 people off on a night-time charity walk.
The Manchester Shine event, for Cancer Research UK, will pass Old Trafford, Manchester Town Hall and the charity's Paterson Institute in Withington.
Mr Law, who has survived prostate cancer, sounded a horn to start the marathon walk at 2100 BST on Sunday.
Some Coronation Street stars were taking part in honour of the soap's former writer, Gavin Blyth.
Mr Blyth, who also produced Emmerdale, died of cancer last November.
The team tackling the event's half marathon will include soap actresses Michelle Keegan, Brooke Vincent, Lucy Jo Hudson and Kirsty Leigh Porter.
Participants can also walk a full marathon route.
It is hoped those taking part will raise more than £1.8m to fund research into cancer.
Mr Law said: "I am absolutely delighted to have been asked by Cancer Research UK to officially start Shine once again here in the heart of my beloved Manchester.
"It's fantastic that so many people have signed up for this spectacular event. Everyone taking part will know someone who has been affected by cancer and by all coming together and helping raise money for Cancer Research UK, each and every one of them is making a real difference."