Row over resumption of Salford Chat Moss peat works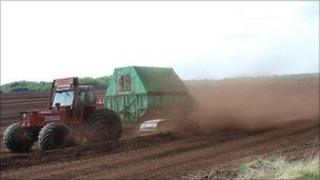 A row has broken out over a company's resumption of peat extraction from a 10,000-year-old moss land in Salford without planning permission.
William Sinclair applied to Salford City Council last year to extend its peat extraction licence for Chat Moss, which ran out in December.
The horticultural firm said it was forced to resume work last week to protect its investment in the site.
Lancashire Wildlife Trust (LWT) said it was angered by the "illegal activity".
Salford City Council told the BBC it was aware of the situation and that the request for the licence to be extended would be examined in May.
The firm resumed extraction resumed at the site on Good Friday, to the "disgust" of the conservation group - which has called for enforcement action.
Chief executive Anne Selby said: "William Sinclair's have no right to extract peat on Chat Moss without planning permission.
"We utterly condemn this illegal activity and blatant disregard for due process shown."
A period of consultation over the application in January 2011 attracted about 1,000 objections by people and organisations, LWT said.
Conservationists cite the loss of biodiversity and "release of huge amounts of CO2 into the atmosphere" as their concerns over peat extraction.
"Peat extraction is enormously damaging to the environment, and has had its day," Mrs Selby added.
The company said it had harvested peat from the site for "years and years" and had provided all the information the council had asked for.
Chief executive Bernard Burns told the BBC the company employed 11 people to extract the peat.
"We put £1m plus into the local economy every year and those people are there specifically to harvest peat when the weather is right," said Mr Burns.
"The weather is right now. We've got no answer from the council. We wrote to them to tell them we were going to commence harvesting and we have commenced harvesting.
"I'd prefer that it had been sorted out but I do confidently expect we will get planning permission because, given the planning guidelines, permission should be granted."