Moss Side brawl: 'Somali community tensions' blamed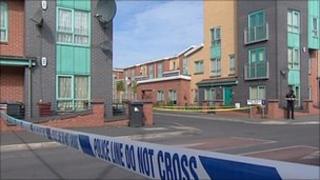 A mass brawl which erupted in south Manchester was the result of a dispute between youths in the local Somali community, police have said.
Three men were arrested and a handgun - which police believe had been fired - was found after the fight in Gerry Wheale Square, Moss Side.
One man was detained after a car seen fleeing from the scene was pursued by arriving officers on Tuesday night.
One man who witnessed the melee said: "It was a riot basically."
The witness, who did not want to be named, said he had been trying to drive down the street when the fighting broke out.
He estimated that there were between 200 and 300 people involved. Greater Manchester Police (GMP) estimated the number was nearer 50.
Police were called to the scene at about 2000 BST and were on the scene quickly, the force said. The men were arrested on suspicion of firearm offences.
A green Ford Focus, believed to have been involved, was found abandoned in nearby Alexandra Avenue.
A large area around Gerry Wheale Square has been cordoned off for police investigations.
Ch Supt Russ Jackson, of the GMP Metropolitan Division, said: "The information we're getting from the community is that this is a dispute between young members of the local Somali community.
"This is not traditional gang-related. This is not a return to Gunchester.
"I would like to stress that the vast majority of the Somali community in this area are law-abiding and are good citizens. This is a small number that we are talking about."
Earlier, Assistant Chief Constable (ACC) Neil Wain said he understood why some residents may have been "frightened" by the outbreak of violence.
He said: "We have three people in custody for questioning and taken a deadly weapon off the streets but our work does not stop there and we will be out working with the community today making inquiries and ensuring that those who have questions and concerns can speak to someone."
He urged anyone with any information to contact the force.