Tameside castle was built to keep 'Scots from Cheshire'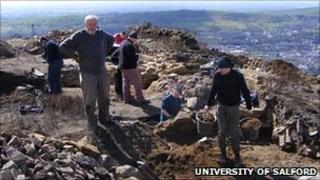 Archaeologists working on a ruined Tameside castle have concluded it was built to prevent parts of England coming under Scottish rule.
Buckton Castle in Stalybridge by the Earl of Chester was built in the 1100s.
It was occupied for less than 100 years during a time when the King of Scotland lay claim to Lancashire and Cumberland.
The University of Salford's Brian Grimsditch said, due to the unrest, "local rulers like the Earl had to protect their lands".
The university's Centre for Applied Archaeology conducted a three-year dig at the castle and have now concluded it was started to offer protection from Scottish expansion, though a change in political circumstances meant it was never finished.
It was built by Ranulf II, the fourth Earl of Chester, during the mid-12th Century period known as "the Anarchy", when King Stephen and Queen Matilda disputed the English crown.
'Complete anarchy'
Ranulf found himself in conflict with King David of Scotland, who had been granted Lancashire and Cumberland by Stephen, lands which the Earl also laid claim to.
The boundary of the disputed lands ran close to the Mersey across historic north Cheshire and the archaeologists said the castle was started with this in mind, as its position overlooks both the river and the northern approaches to the area.
Mr Grimsditch said it was a time "when the British Isles were in complete anarchy".
"As a result, local rulers like the Earl of Chester had to protect their lands [and] Buckton Castle is a great example of this process in action," he said.
However, Mr Grimsditch said that the castle building was later abandoned, as Ranulf obtained Lancashire up to the Ribble, moving his land's border 60 miles north.
He said this was shown by the fact the team had found limited pottery from the 12th and 13th Centuries and discovered that the walls and gatehouse were deliberately piled into the castle's surrounding ditch to destroy its fortifications.