Gordon Burns to step down from BBC North West Tonight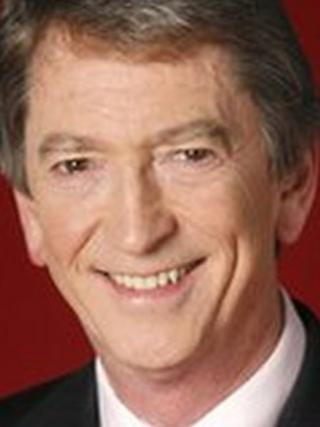 Gordon Burns is to stand down from BBC North West Tonight after nearly 15 years presenting the programme.
The 68-year-old presenter announced he is to leave in September when he will take up a new role hosting a Sunday morning BBC radio show.
Aziz Rashid, head of BBC North West, paid tribute to Burns describing him as a "unique talent" and a "broadcasting phenomenon".
No decision has yet been taken on appointing his successor.
Burns said: "It will be a great wrench to leave the programme I have been proud to present for nearly a decade and a half.
"I've enjoyed it enormously and I regard it as a real privilege to have been in the homes of people across the North West for so many years delivering the news to them."
Nationally, Burns is best known for The Krypton Factor which ran on ITV for 18 years.
'Unique talent'
Since he became the face of BBC North West Tonight in 1997, he has has interviewed seven British prime ministers and picked up the Royal Television Society award for Best UK Regional Presenter (NW) on five occasions.
Mr Rashid said he was a "unique talent".
"Gordon's contribution to the success of North West Tonight has been phenomenal. In fact he is a broadcasting phenomenon.
"He has navigated millions of viewers through the issues that matter across the region."
David Holdsworth, controller of BBC English Regions, said: "The word 'icon' can be over-used - but not in this case.
"Gordon Burns is synonymous with regional broadcasting and viewers in the North West have adopted him as one of their own. He will be a hard act to follow."
Burns is married with two grown-up children and two grandchildren. He has lived in Manchester for over 30 years.
He will continue to work with the BBC presenting a new show broadcast simultaneously on Radio Manchester and Radio Lancashire, on Sunday mornings from September.