City regeneration pioneer Tom Bloxham in 'decline' warning
By Mark McGregor
BBC News Online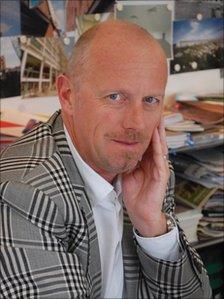 Inner-city areas in England face decline without government support and civic vision, a pioneer of urban regeneration has warned.
Urban Splash's Tom Bloxham, who helped kickstart the renaissance of Manchester and Liverpool in the 1990s, thinks the "work is done" in many city centres.
But he argued the areas around them would become increasingly "poor and depressed" without investment.
The government said its ambition was for "locally-driven growth" to encourage business investment and promote economic development.
Urban Splash made its name buying up unwanted Victorian mills and converting them into loft apartments and offices for creative industries.
After its first successful project, Concert Square in Liverpool, the firm started a trend for city regeneration that saw developments spring up in cities across the north and Midlands and greater investment in their infrastructure, leisure and culture facilities.
A slew of company awards followed, while Mr Bloxham was awarded an MBE in 1999 for his services to urban regeneration and acted as a property advisor to the former Deputy Prime Minister John Prescott.
Assessing the landscape in 2011, he told the BBC there had been an "incredible renaissance" in city centres over the last 25 years that was now almost taken for granted, driven by private finance and developers.
He argued that targeted public sector finance had "often been the catalyst to get things going" and detailed his fears for the future.
"I'm very much worried, not so much about the core city centres because I think the job has been done there, but there is still a doughnut around Manchester and most other city centres where there are real issues and real problems," he said.
"I think there is a real danger that if you just leave everything to market forces, what will happen is the south east will get richer and richer... but areas of the north will become increasingly poor and depressed.
"There's been a huge amount of positive work over the last 20 years, started by Lord Heseltine, looked at by Richard Rogers with his task force, John Prescott came in with his office and really pushed forward an agenda of regeneration.
"I do worry that unless positive action is taken, we will reverse the trend and rather than see areas improve and great new places develop, we will see other places go into decline."
With the supply of Victorian mills drying up - partly as a result of its own success - in recent years Urban Splash has turned its attention towards the estates and tower blocks that form those "doughnuts" around city centres.
Terraced housing in Salford - brought back to life as Chimney Pot Park, 1960s tower blocks in Collyhurst, the huge concrete Park Hill estate in Sheffield and the 1970s Cardroom estate in east Manchester - now dubbed New Islington - have all been given the Urban Splash treatment.
Mr Bloxham's current vision is to create "tenure blind" buildings in these new developments - a mix of owner-occupier, rented and social housing that does not differentiate between the wealth of their tenants.
This social housing aspect of its developments has helped Urban Splash attract grants for some of its biggest projects, such as New Islington in east Manchester, which is drawing £25m of its estimated £225m redevelopment costs from the public sector.
The now-defunct North West Development Agency (NWDA) has contributed funding, while other cash came from government agencies which now find their budgets squeezed by spending cuts.
Mr Bloxham told the BBC the regeneration challenges he has specialised in would not have happened without such public support - and hinted that if the funding dries up, others were unlikely to pick up the baton.
"In a way we are in a good position as Urban Splash in that we have got quite a bit of assets, we could quite happily just sit there and manage our existing assets, work those hard and collect the rent," he said.
"But it does mean that areas that are in need of regeneration, if there isn't the support they may not get the regeneration - they may stay where they are."
He also called on "vision" from civic leaderships about the direction of their localities - combined with real action on delivering them.
The Department for Communities and Local Government (DCLG) believes the abolition of regional development agencies will make it easier for councils to lead local regeneration projects.
It also cited the creation of enterprise zones - such as Airport city at Manchester Airport - and its new homes bonus, which will match council tax raised from new build homes, as schemes that will support communities.
A spokesman said the government agreed "wealth and prosperity" had been concentrated in one part of the country for too long, and argued that Britain needed every region to fulfil its potential.
He added: "Instead of central government prescription, we are putting residents, businesses, civil society organisations and civic leaders in the driving seat and providing them with local rewards and incentives to drive growth and improve the social and physical quality of their area."
Related Internet Links
The BBC is not responsible for the content of external sites.