Iraqi bombed car on show at Imperial War Museum North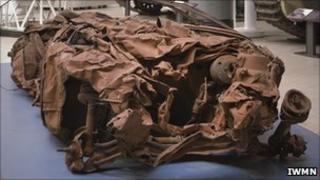 The wreck of a car bombed in an Iraqi street is being put on display at the Imperial War Museum North (IWMN) by artist Jeremy Deller.
The vehicle is part of an exhibition at the Trafford museum which looks at how modern war affects civilians.
Mr Deller said it was "unusual to see anything from the conflict in Iraq 'in life' so I was interested in being able to show this car to the public".
The car was subject to the attack in Baghdad on Monday 5 March, 2007.
The Turner Prize-winning artist said he was "very happy that the Imperial War Museum has taken this object into its collections and is putting it on such prominent display - I couldn't think of a better home for it in this country".
'Faces of war'
The car was bombed on Baghdad's Al-Mutanabbi Street, the home of a historic book market in the cultural centre of the city, four years ago.
The IWMN will use the wreck as a centre point for a new show, which projects images from the 2007 bombing on to the walls of the museum's main exhibition space.
IWMN director Jim Forrester said it would make a powerful reminder of how modern conflicts affect local populations in war zones.
"The wreckage of a car caught up in a street bomb is an example of one of the many faces of modern war, where civilians are now often seen as a front-line target," he said.
Mr Deller has previously toured the wreck around the US with the aim of sparking debate about the conflict in Iraq and its aftermath.
The exhibition opens on Saturday 16 April 2011 and the car will go on to become part of the IWMN's permanent collection.