BBC sells Manchester base ahead of move to Salford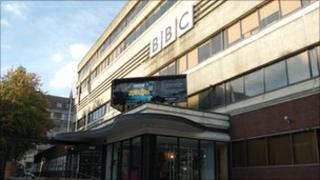 The BBC has sold its headquarters in Manchester ahead of its move to Salford.
The corporation - which has occupied the Oxford Road building since 1976 - has signed a deal with Manchester-based Realty Estates Ltd.
The company out bid four interested parties to buy the city centre location for an undisclosed fee.
Realty Estates will take over the site once the BBC completes its move to MediaCity in Salford later this year.
Originally designed for radio and TV production, the building - known as New Broadcasting House - was put up for sale in August 2010 as a "major mixed-use development opportunity".
Property portfolio
Realty Estates was finally chosen as the successful bidder from a shortlist which included Bruntwood, Downing and the Greater Manchester Property Venture Fund.
It is owned by Iranian-born businessman Yousef Tishbi, whose portfolio of commercial and investment properties includes Gateway House near Piccadilly Station, the former Boddingtons brewery site in Strangeways and the old Manchester Abattoir in Newton Heath.
In a statement, BBC Workplace said: "Following a period of open marketing, the BBC has exchanged contracts for the sale of its Oxford Road site in Manchester to Realty Estates."
About 800 BBC staff currently work at the BBC building on programmes such as Question of Sport, Mastermind, File on Four, Songs of Praise and North West Tonight. It is also home to the BBC Philharmonic orchestra.
They will join more than 1,000 other BBC employees moving up from London to the BBC's new northern base in Salford later this year.