Higher Broughton estate revamp to go ahead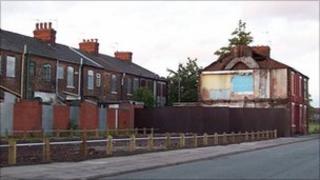 The redevelopment of a Salford estate will go ahead, despite a few homeowners being against it.
A Salford City Council spokesperson said demolition work would begin on the Top Streets estate in Higher Broughton so the revamp work could go ahead.
People living nearby said the area had become a "no-go area" at night due to the number of derelict properties.
The work will not include the houses of three residents, who have secured legal protection for their existing homes.
Plans were revealed in 2007 for Salix Homes, Salford City Council's regeneration partner, to demolish 308 of the 338 houses in Top Streets and build new properties in their place.
Compulsory purchase orders were served on all the properties, which the majority of owners agreed to.
However, three residents have fought the orders, and say they want the council to consider renovating their existing homes, rather than demolish them.
Antonio Benosa, who has lived in the area for 35 years, said he did not like new houses and added his existing home was "very handy" for his large family.
The council spokesperson said that the authority was still "in consultation" with the owners of some of the properties and said that no work would be done on those until an agreement had been reached.