Tameside restaurant claims poppadom stack record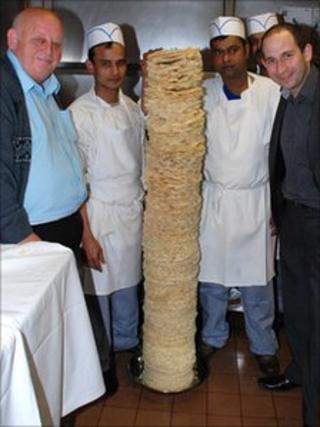 The owners of a Tameside restaurant have claimed to have built the world's tallest stack of poppadoms, measuring 157cm (61.8in).
The Indian Ocean in Ashton-under-Lyne held the record before, but lost it to Nottingham's The Curry Lounge in 2009.
Restaurant owner Nahim Aslam said he was "over the moon we managed to pull off the win".
The restaurant will have to wait six weeks to have their claim verified by Guinness World Records.
The tower was put together by the restaurant's chefs and waiters, with two independent judges - Tameside councillor Bill Harrison and local businessman Jon Howarth - on hand to watch it being built.
They watched the tower being built above the existing record of 151cm (59.4in), which was achieved by The Curry Lounge in July 2009.
Mr Aslam said staff had "been practicing for weeks, so confidence was very high amongst the team that we would do it, but of course there were nerves too".
He said he was sure that the title would be returned to his restaurant and that he hoped "we manage to keep hold of it for a while, as 157cm is a fair height to beat".
The restaurant's attempt on the record came as part of a charity night, held in aid of cancer research.