Manchester Airport named as new enterprise zone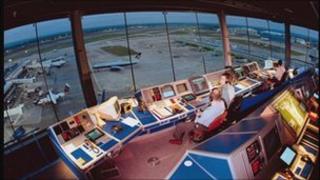 Manchester Airport has been named as one of the government's 21 new "enterprise zones" announced in Chancellor George Osborne's Budget.
It will benefit from business rate discounts, simplified planning and access to superfast broadband.
Called Airport City, the development will be run by the newly established Manchester Local Enterprise Partnership.
Developing the airport is forecast to create between 7,000 and 13,000 jobs.
'Centre of Excellence'
Charlie Cornish, Chief Executive of Manchester Airports Group (MAG), said: "Manchester Airport is the principal international gateway to the region and is primed for an investment of this scale, amassing over sixty acres.
"Our development programme will expand the world freight terminal, create new business space, attract global businesses and provide health related uses.
"It will build upon the proximity of Wythenshawe Hospital as an international centre of excellence, science, research and advanced manufacturing.
"Phase one of Airport City will start early next year and we will be publishing our planning framework for consultation shortly."
Mike Blackburn, on behalf of the shadow Local Enterprise Partnership (LEP), said: "I welcome the announcement which is an encouraging response to the need to drive the maximum growth in Greater Manchester.
Tax revenues
"There is of course a lot of detail to be fully worked through, but under the guidance of Manchester Airport and in close consultation with the fullest range of stakeholders this will be major priority for the LEP when it is formally established next month."
Lord Peter Smith, who chairs the Association of Greater Manchester Authorities (AGMA), said: "The selection of Airport City followed independent assessment of where the greatest benefit for the Greater Manchester economy would be delivered.
"We have the potential to create over 7,000 jobs as a result of successful development, and our approach to capturing tax revenues is designed to ensure their re-investment throughout Greater Manchester, including infrastructure.
The Budget confirmed that the first Enterprise Zones would be based within eleven LEPs led by Manchester, Liverpool, Birmingham and Solihull, Sheffield, Leeds, London, the Bristol area, the Black Country, Derby and Nottingham, Teesside and the North East.