Manchester to host ice sculpture polar bear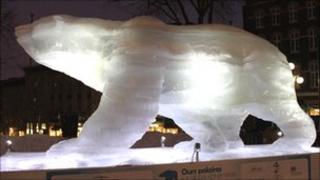 Manchester's Piccadilly Gardens is preparing to host a life-sized polar bear carved out of ice.
The sculpture, which is frozen around a bronze impression of a bear's skeleton, will be created by artist Mark Coreth on 31 March.
It will be the sixth ice bear Mr Coreth has created and will take at least five days to melt away.
The bear has been commissioned by The Manchester Museum to celebrate the opening of a new Living Worlds gallery.
Mr Coreth and his team have previously taken their Ice Bear Project to London, Copenhagen, Toronto, Montreal and Ottawa.
He said it was "fantastic to be able to bring the project to Manchester, a city that has a great reputation for art and culture".
The sculpture will take about six hours to complete and will be carved from a 10-tonne block of ice, measuring 4m long and 2.2m high.
The artist will also be giving sculpting workshops at the site, teaching local people basic skills using clay.
Manchester City Council's Pat Karney said the city "loves public art and this temporary installation is going to be a real show stopper and get everyone talking".
"To have this right in the centre of the city is great," he said.
The Manchester Museum's Living Worlds gallery opens to the public on Thursday 14 April 2011.