University of Manchester wants to charge maximum fees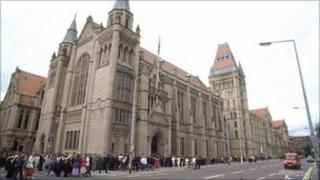 The University of Manchester has become the latest to announce plans to charge students £9,000 in fees from 2012.
About 30% of the extra income generated would be used to support students from less advantaged backgrounds.
University leaders believe the rise - which needs to be approved by the Office for Fair Access - would "ensure and improve the quality of teaching".
The students' union said charging the maximum fee could damage efforts to widen participation at university.
The university's board of governors approved the decision at a meeting on Wednesday.
President and Vice-Chancellor, Professor Dame Nancy Rothwell, said: "The university's board of governors agreed to the headline fee of £9,000 very reluctantly.
"But we believe this is necessary to ensure and improve the quality of teaching and the wider experience that we offer to all of our students, and it reflects the value of a Manchester degree in the employment market."
A large number of students will qualify for financial support of up to £3,000 per annum in fees waivers and bursaries, the university said.
'Higher debt'
The University of Manchester Students' Union (UMSU) believes the funding gap could be partially filled through business contributions and alumni funding.
General Secretary Sarah Wakefield said: "It is disappointing that the University of Manchester has been put in this situation by government cuts where, in order to fund their operations, students must be put in even higher levels of debt.
"We will continue to work constructively with the university to ensure that every student in Manchester has their voice heard in any changes which are coming, and that they are supported in their university experience."
From September 2012, universities in England will be allowed to raise tuition fees to up to £9,000 per year from the current cap of £3,290.
It follows major budget cuts to institutions' teaching budgets and was backed by Parliament in December 2010, sparking angry street protests.
The universities of Oxford, Imperial College, Durham, Exeter, Essex, Surrey and Warwick have also said they want to charge the maximum yearly tuition fee.
Also, governing bodies at Cambridge and Liverpool - and according to documents seen by the local press, Leeds - are preparing to vote on proposals to charge £9,000 per year.
No institutions have yet named fees below £9,000, although Liverpool Hope has said it will not charge the maximum and the London Metropolitan has said it will charge an average of no more than £7,000, with some courses below £6,000.