Tameside Council 'paid for empty care home beds'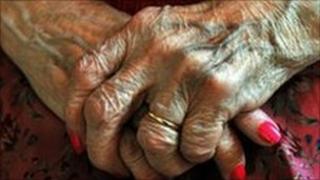 A council paid almost £900,000 to a private healthcare provider for beds it did not use, it has emerged.
Tameside Council signed a £50m deal with Meridian Healthcare in 2007, which guaranteed the use of 484 beds in its homes for five years.
In the past year there have been an average of 41 beds empty per week, which still had to be paid for.
The council said more beds were empty because of its policy of keeping people in their own homes for longer.
The cost of the beds was at least £16,000 a week, so over the past financial year nearly £900,000 has been spent on empty beds.
'Same opportunities'
The Private Care Homes Association in Tameside, whose members are in competition with Meridian for residents, claim the council has wasted huge amounts of money on this deal.
It claimed the deal was unfair as it did not go out to tender.
Chair of the association, Jack Meredith, found out about the deal when he put a Freedom of Information request to the council.
He said: "We want the elderly people of Tameside to have a full choice of where they want that care to be delivered and where they want to die, and we want care homes in Tameside to have the same opportunities that are being afforded to Meridian."
Tameside Council said the deal did not need to go to tender as no other care home provider in the borough had the amount of beds it wanted to secure.
A spokesman said empty beds were also used for emergency and short-term placements, such as for respite care.
He added people do have a choice of which care home they go to.
"Where people want to choose a non-Meridian care home then they are free to choose any care home which can meet their needs," he said.