Jodrell Bank on shortlist for World Heritage site status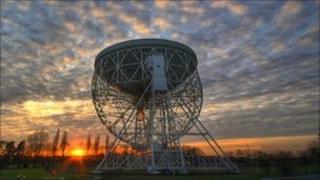 Jodrell Bank observatory in Cheshire has made the shortlist of candidates to bid for World Heritage status.
Eleven sites have been chosen from across the UK, including the Lake District, Creswell Crags and the Forth Rail Bridge.
More than 800 places around the world have been granted Unesco World Heritage status for their "global importance".
If successful, Jodrell Bank would rank alongside the Taj Mahal, the Great Wall of China and the Egyptian Pyramids.
Part of the University of Manchester's School of Physics and Astronomy, the observatory, which houses the Lovell Telescope, is a combination of live science and a visitor attraction.
It is currently undergoing a £3m facelift which includes the creation of a new Discovery Centre.
Over the past 50 years, Jodrell's astronomers have tracked Sputnik, discovered quasars and confirmed Einstein's theory of gravity.
Research 'priority'
Dr Teresa Anderson, director of the Discovery Centre, said: "We're absolutely delighted to hear that we have been included on the UK Tentative List for World Heritage Site status.
"Jodrell Bank has earned its place on the list by being a place where live science has completely reframed the way in which humanity sees its place in the Universe.
"The priority for Jodrell Bank is research. This is its guiding principle, which means that research always takes precedence over conservation of its telescopes just as monuments to past achievements.
"This news is testament to the devotion and dedication of Sir Bernard [Lovell] and of all the staff who have worked at Jodrell Bank over the years."
The list of 11 was whittled down from 38 landscapes, buildings and industrial heritage sites submitted to Unesco for consideration.
Also on the shortlist are the UK Overseas Territories of St Helena in the South Atlantic and the Turks and Caicos Islands in the Caribbean.