Manchester hospital wins Asbos to protect A&E staff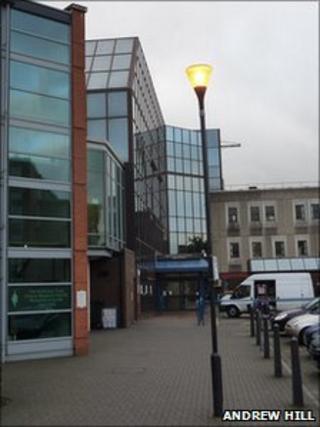 Anti-social behaviour orders (Asbos) are being used to tackle violent crime at a Manchester hospital.
The measures have been taken to protect staff at the Manchester Royal Infirmary (MRI) from being assaulted and abused.
In one case, the hospital and police successfully applied for an Asbo against an aggressive man who turned up at A&E more than 200 times.
A hospital spokesman confirmed four similar orders had been issued against persistent offenders.
The hospital's A&E department sees 100,000 patients a year making it the busiest in the North West.
Drugs and alcohol
Pc Carl Kelly is one of two Greater Manchester Police (GMP) officers stationed at the MRI.
He said people arriving at casualty under the influence of drugs and alcohol accounted for the majority of the violent crime reported.
"One individual had come into the hospital in over 200 admissions in an 18-month period into the A&E department, all of which were alcohol-related.
"He had been racially abusing staff, he had assaulted staff and he has been convicted of those offences."
Pc Kelly said GMP, the hospital and Manchester City Council had successfully applied for an Asbo to prevent the offender from entering hospital premises unless seeking emergency medical treatment.
He said the man had been in the hospital only twice in the past six months.
Persistent offenders
Pc Kelly stressed the need for security staff to be given the right training and for the NHS to invest in security.
"I don't want to see anyone put at risk. I want to see a safe hospital.
"The people of Manchester want the hospital safe, the management want it safe and the unions and the staff want it safe," he said.
The MRI is run by the Central Manchester University Hospitals NHS Foundation Trust.
A spokesman said the hospital had been working closely with police and its own security officers to "reduce physical and non-physical violence and assaults" on trust staff.
The trust was prepared "where appropriate, to apply sanctions against any persistent offenders" and had gained four Asbos since July 2010, with two pending, he said.