Wu Lyf top Manchester International Festival's new music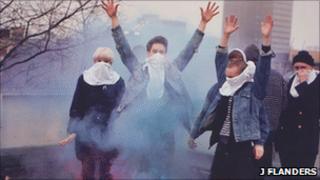 The heavy pop of Wu Lyf is set to stop the traffic as part of Manchester International Festival (MIF).
The band, who have built up a cult following despite not releasing any music, will play the Great Bridgewater Street tunnel in July.
It will be their only UK festival appearance of the year and their first show in Manchester in 2011.
Also on the MIF bill is the True Faith series, which will see D/R/U/G/S, Air Cav and more play the Pavilion Theatre.
Wu Lyf's gig on Saturday 16 July will be a chance for many to get their first experience of the band.
Great Bridgewater Street will be closed to traffic for the night, allowing 2000 revellers to experience what is one of the festival's most hotly anticipated musical moments.
True Faith returns
The new music talent continues elsewhere in the MIF programme with a return of DJ and author Dave Haslam's True Faith series at the central Pavilion Theatre in Albert Square.
Alongside three in-depth interviews with ex-New Order front man Bernard Sumner, journalist Paul Morley and musical master Barry Adamson, the theatre will host three gigs - two programmed by Dave Haslam and one by future stars (and past MIF players) Everything Everything.
It is the Everything Everything show that opens the live music, with Egyptian Hip Hop, XXXY and Plank! all taking the stage on Tuesday 5 July.
The following night, LoneLady, Silverclub and Air Cav play the theatre and on Tuesday 12 July, D/R/U/G/S, Young British Artists and Golden Glow round the live new music off in the venue.
'Original and mould-breaking'
Speaking about the line-up for the series, Dave Haslam said it was "not an exercise in choosing which bands will one day sell loads of records which is the Simon Cowell way of seeing music".
"Manchester is blessed with loads of good bands and I'm interested in bands who are establishing themselves and have good ideas and who seem to stand out by way of being original and mould-breaking."
"Two years ago I chose Everything Everything and I think people will agree that they fulfil that kind of criterion, and that's why I invited them back to pick 3 of the 9 bands.
He said that he was looking forward to LoneLady most, as it was his perception that "she's been a bit underappreciated".
"I think there are still loads of people who'd love to discover her.
"I spoke to her yesterday, by the way, and she said she was so into the 'True Faith' idea she's considering making it her only live gig of the year, so she can put all her energies and ideas into it."
"How ace is that?"
Wu Lyf play Great Bridgewater Street on Sat 12 July.
True Faith takes place in the Pavilion Theatre in Albert Square between Mon 4 and Weds 13 July.