Manchester returns to the tradition of bronze plaques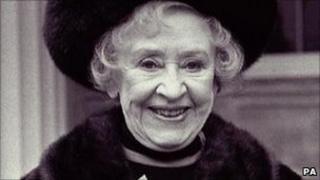 Three new commemorative plaques are to be put up by Manchester City Council, the first added to the city's collection for 11 years.
The council has not placed any plaques since 2000 due to a lack of resources.
The new plaques, which are privately funded, will celebrate author Elizabeth Raffald, actress Doris Speed and film star Robert Donat.
Councillor Mike Amesbury, executive member for culture and leisure, said they showed the city's "rich heritage".
The first new plaque will be installed in March on the Marks and Spencer's building in Manchester.
Experienced English Housekeeper
The plaque, in memory of Mrs Raffald, is a replacement of an original, which was lost as a result of the IRA bombing in 1996.
Mrs Raffald, who worked for many years as a housekeeper before marrying, ran a confectionery shop and cooking school in the Market Place, close to where the plaque will be.
In 1769, she wrote a cookery book, The Experienced English Housekeeper, which became so well known that even Queen Victoria would later copy sections of it into her diary.
She also published the first Manchester trade directory and opened the first register office in the city that allowed servants to marry.
The second plaque will be on 13 Sibson Road in Chorlton-cum-Hardy, where Coronation Street actress Ms Speed lived with her mother during her time on the famous soap.
Ms Speed played Rovers Return landlady Annie Walker from 1960 to 1983.
She was appointed an OBE in 1977 for her services to television.
The final plaque, which will be unveiled in May, is dedicated to Robert Donat, who won the Academy Award for Best Actor in 1939 for his lead role in Goodbye, Mr Chips.
Mr Donat, who was nominated for the same award the year before he won, will be remembered at his childhood home, 42 Everett Road in Withington.
The last plaque to be unveiled in Manchester was the reworked commemoration of the Peterloo Massacre in 2007, which was reworded as the original made no reference to those killed or hurt.
In 2000, the last first unveiling of a plaque took place in Chorlton Street to commemorate the Catholic Social Guild.
It was red in colour, following the scheme of different coloured plaques commemorating different things; blue for people, red for events and organisations, black for architecture and history and green for all other subjects.
The new plaques will mark a break from that system, with all future commemorations being displayed in patinated bronze.