Belle Vue speedway stadium plans win council backing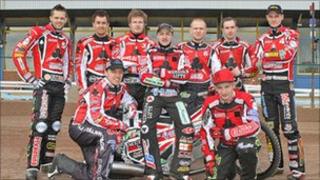 Plans to build a new national speedway stadium in East Manchester have been given the backing of councillors.
Manchester City Council has approved in principle proposals for the £6m arena which would be the new home of Belle Vue Aces.
The Belle Vue Sports Village would also include facilities for taekwondo and basketball.
The plans are part of a wider bid to create a "global destination" for sport in the area around Eastlands.
While yet to receive formal approval or planning permission, the news was welcomed by the Manchester-based Elite League club.
'Major breakthrough'
Belle Vue Aces' managing director David Gordon said: "It's what we've been working towards for the past four years and we're delighted to have the support of the city council."
He added: "It will be the national speedway stadium too - we've had that confirmed by the Speedway Control Board.
"So it's a major breakthrough, not just for Belle Vue but for speedway in this country."
A new venue would see the famous Belle Vue club moving just 100m down the road from its current base on Kirkmanshulme Lane.
The capacity of the new stadium would be 6,000 rising to 18,000 for major World Cup events with the addition of temporary seating.
Mr Gordon said that, if went ahead, it could attract "international and world-class events".
Eddie Smith, chief executive of urban regeneration company New East Manchester, also welcomed the news.
"This is an important first step in bringing forward an exciting set of proposals for the Belle Vue Sports Village at Eastlands, which along with basketball and taekwondo, would include speedway.
"We recognise the heritage of speedway to this city and are determined to deliver commercially viable facilities for the sport in East Manchester."
The speedway plans form part of a joint venture between the council and Manchester City FC to develop the area of Eastlands and Openshaw.