Fred Dibnah's steam engine naming honour in Mobberley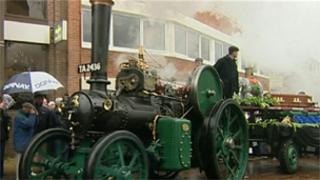 A steam engine which used to belong to Bolton steeplejack Fred Dibnah is being named "Fred" in his honour at a special ceremony.
The Aveling and Porter steam traction engine was sold last year for £264,000.
Fred's son Jack will drive the engine from the new owner's company in Knutsford to the Church Inn in Mobberley for the ceremony.
The engine, built in 1912, was bought by Cheshire businessman Michael Oliver.
The machine was restored over a 25-year period by Mr Dibnah, the Bolton steeplejack who shot to fame in a television documentary about his life.
It was last used to pull his coffin at his funeral in 2004.