Manchester councillors pass £109m of budget cuts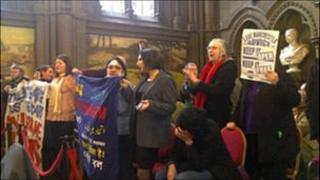 Councillors in Manchester have approved a budget with £109m of cuts at a stormy meeting which was repeatedly disrupted by protesters.
The Labour-run council passed the plans at the two-and-half hour meeting.
The cuts include shedding 2,000 jobs - 17% of the workforce - and closing services such as libraries, leisure centres and public toilets.
Protesters wanted the councillors not to approve the budget, chanting: "You are ruining lives."
Council leader Sir Richard Leese said: "It's an irony when in a week when we are having to cut our budget for next year by £109m, the government is allowing just three bankers £100m in their annual pay cheques.
"There is something very wrong in the morality of this government.
"These are ideological cuts; they are too fast, too deep and fundamentally wrong."
As the budget was approved following a two-and-a-half-hour meeting, demonstrators chanted "shame" as members left the council chamber.
As protesters began booing and stamping their feet, Lord Mayor Mark Hackett appealed in vain for quiet, warning he would have the protesters cleared from the council chamber, and suspended the meeting for 15 minutes.
Liberal Democrat councillor Simon Wheale moved an amendment, which was voted down, arguing that had Labour established different priorities the cuts would not be so damaging.
'Yellow Tory'
He said Manchester could share functions such as payroll and occupational health with other authorities to save money, cut money for council lunches and chauffeur-driven cars and collect more rates - calling Manchester the "capital city" of council tax avoidance.
Mr Wheale claimed Liberal Democrat-run councils in Bristol, Portsmouth, Newcastle and Sheffield were proposing cuts which did not hit the front line with such effect.
He was frequently shouted down by protesters calling him "Yellow Tory".
The council said its annual budget was about £629m, but next year it must save £109m and the year after £170m - representing a 25% cut in its total budget.
The council also claims it is the fourth poorest local authority area in the country and has the third lowest council tax bill but is having its money cut, while more prosperous Tory-run councils in the South are having their budgets increased.
But Communities Secretary Eric Pickles said Manchester had been protected under the new financial settlement following the government's budget, and claimed the city has had its budget cut by about 15% in total.