Rochdale EDL and UAF protests: 31 arrests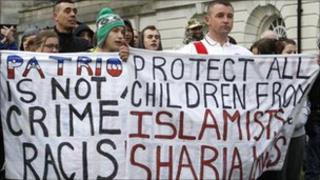 Thirty-one people have been arrested during demonstrations by the English Defence League (EDL) and Unite Against Fascism (UAF) in Rochdale.
Police estimated that about 550 people joined the EDL side of the protest, with around 100 taking part in the counter-demonstration.
The two sides were kept about 30m apart, on opposing sides of the town's war memorial, and separated by fencing.
After about two-and-a-half hours both sides were escorted away in groups.
On several occasions protesters surged towards the police lines but they did not manage to break through.
The crowds began to disperse at about 1600 GMT and Greater Manchester Police said the event had been largely peaceful.
'Tolerance and restraint'
There were arrests for offences including possession of an offensive weapon, public order breaches and being drunk and disorderly.
Ch Supt John O'Hare said: "We had intensively planned for the event and delivered a robust policing operation to ensure public safety.
"Our police operation does not finish once the demonstrators leave town.
"There will be an extensive policing operation into the night and in the days afterwards."
Councillor Colin Lambert, leader of Rochdale Council, said: "The police operation has been a complete success, the demonstrations have taken place with a minimum of disruption to our town.
"Rochdale's diverse communities are to be commended for their co-operation, tolerance and restraint through what has been a challenging time."