Salford left without court for first time in 1000 years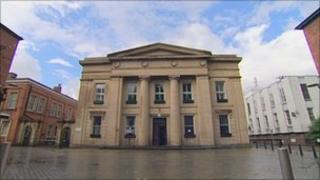 With news that Salford is one of 93 magistrates' courts earmarked for closure under the government's spending cuts, Radio 4's Jenny Cuffe headed to Bexley Square to talk to the people who serve on the bench there and those who appear before them.
"Cold and empty and full of low-lives" is how one defendant, up on a speeding charge, describes Salford Magistrates' Court.
Another young man, who says he has been in and out of court since he was 12 years old, describes the cells as dark and dank with walls covered in spit.
But to Roger Hall, Chairman of the Bench, the Victorian building in Bexley Square is a fine historic building with a dignity that fits its role as a place of justice.
Drunken gangs
A businessman who recently took a degree in criminology, Mr Hall followed his father in his father's footsteps to become a magistrate, joining the ranks of about 30,000 men and women in England and Wales who give up their time free to dispense justice, handling more than 95% of all cases that come to court.
The people who appear before them range from council tax defaulters to murderers making a first appearance in court.
A visit to the courthouse basement where dusty ledgers hold all the court records from the mid 19th century onwards, shows that crime has not changed much over the years.
There has been a court in the city for 1000 years and the offences have remained the same, involving young men committing theft and burglary or roaming in drunken gangs and getting into fights.
The woman I meet as she crouches on the courthouse steps having a quick cigarette, says she is in court to support her 17-year-old son.
He has just been caught after breaking his Asbo and ripping off the electronic tag that was supposed to confine him to the house.
'Lost control'
After being on the run for two months, he has now been sent to prison on remand.
His mother says she lost control of him when he was 13 years old and started smoking cannabis. Now his problem is drinking with his mates and fighting.
His girlfriend recently committed suicide and his mother believes he has emotional problems as well.
She says it is horrible seeing him waste his life in a cycle of crime and court appearances and she can only hope he grows out of it.
Magistrate Pauline Holt, who says she was a "hang 'em and flog 'em" sort of magistrate when she started over 20 years ago, admits to feeling sick when she sends someone to prison.
She says: "I always think that could be somebody I know very well, even a member of my family, because you don't know what will happen in your life."
The Justice Secretary Ken Clarke has declared that short prison sentences do not work and he wants courts to make more use of community sentences.
But some defendants reel off their court appearances and jail sentences like trophies and magistrates tell me that it is almost impossible to change their offending behaviour.
Roger Hall says there are people who cock a snook at everything they do, breaking one community order after another, and prison is necessary as a final sanction.
He says: "At least it keeps them off the streets and may act as a deterrent to others, because no-one likes going to prison, whatever they might say."
'Better facilities'
Many magistrates believe that the move towards more community sentences is driven by budgetary constraints.
In the spending review period from now to 2015, the Government is cutting 23% from its justice bill. By closing courts, including 93 magistrates courts, it will save £41.5m.
For the first time in its history, Salford will be left without a court and in January next year, 140 Salford magistrates will move across the river and merge with the much larger Manchester bench.
They worry that some of the ground-breaking initiatives they have pioneered, such as treatment programmes for young men, will be forgotten.
They also fear that the founding principle for magistrates - that it is local justice, dispensed by people who live and work in the same community as those who appear before them - will be lost.
However, the justice minister responsible for courts, Jonathan Djanogly, dismisses these concerns and points to the better facilities in the Manchester courthouse.
He wants magistrates to take some of the cases currently heard in crown courts but says they must adapt to change and to a system which puts greater emphasis on community justice.
On the Bench is on BBC Radio 4 on Monday 7 March at 2000 GMT. Listen again via the BBC iPlayer.