Hulme artist makes gallery debut after half a century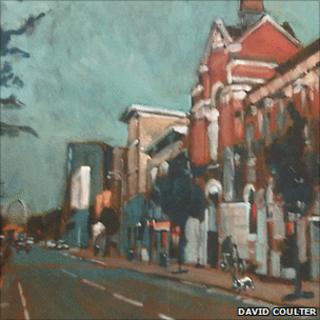 An artist who has been painting Manchester for 50 years is making his exhibition debut after being discovered by a community police officer.
David Coulter, a radiator engineer from Hulme, said PC Dave Vose saw his work after visiting his home.
He said the officer explained that he would speak to the Zion Arts Centre about getting his work shown.
"True to his word, the lad came in with her and she said, 'would you like an exhibition?' I couldn't believe it."
The 63 year old, who admitted he was very nervous about his first exhibition, said he had been painting for "as long as I can remember" and said he never expected to be shown in a gallery as he never thought his work "warranted it".
"I've always been a bit hypercritical of my own stuff," he said.
"I love art, I look at a lot of books and go to a lot of exhibitions and the work that I see there, it knocks me dead.
"I think to myself that I'm not really a player in that game, so I've never pushed it."
However, after the intervention of PC Vose and the Zion Arts Centre's Saskia Metcalf, Mr Coulter is hoping to make the step from amateur to professional though he is realistic about his chances.
"If it was acceptable and it went that way, I would love to," he said.
"I know the art world can be fickle, so I'm not pinning anything on it, but we'll just have to see where it leads.
"At the moment, I'm just happy to have this exhibition and meet all these lovely people."
'A different landscape'
Inspired by the distance that Mr Coulter was born away from the Zion, his exhibition is called '3/4 of a Mile' and features several works depicting his local area and the wider city of Manchester.
He said the city had changed vastly over the half century he had been painting it.
"I love Manchester and to me, it has become better and better.
"When I painted in the 50s, it was drab, because of the smoke and everything was dark and black.
"Today, the light is fabulous; if you go into town and its raining and you're walking down Market Street, the reflections in the water on the pavement of the people and the lovely clothes that they're wearing, it's just a different world, a different landscape altogether.
"When I was a kid, I used to watch Buck Rogers at the Grosvenor Picture House on a Saturday morning and Manchester is like that now.
"I'm not saying that the city's turned into a spaceship, but everything is glittery and shiny.
"It's turned into a nicer place and I try and reflect that in my painting."
'3/4 of a Mile' is on display at the Zion Arts Centre in Hulme from Saturday 12 to Saturday 26 February