Wind blows lorry over on M60 near Trafford Centre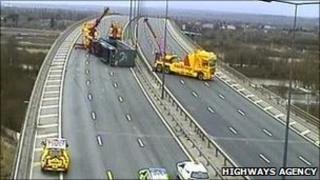 Motorists were urged to avoid using part of the M60 motorway after a lorry was blown over in high winds.
Both carriageways were closed after the vehicle overturned across two lanes on Barton Bridge near the Trafford Centre.
The carriageways between junctions nine and 11 clockwise, and anti-clockwise between junctions 12 and nine, were reopened at about 1615 GMT.
The Met Office had warned that gusts of 55mph would hit the area on Monday, particularly in exposed areas.
It warned that Barton Bridge would be particularly exposed to the high winds.
Earlier, traffic was backing up to junction seven at Sale.
The Highways Agency put diversions in place and had advised motorists to drive safely and avoid the area if possible.
Brian Hensby, the agency's North West Operations Manager, said the lorry had been hit by a 60mph gust.
"He [the driver] was very unfortunate really, he hit the bridge just as a strong gust came through, bringing in the higher wind speed.
"I would say to anybody wanting to travel at peak - you're going to have to avoid the M60 in both directions for Barton because it may be sometime because of trying to lift this vehicle in the wind."
Elsewhere in Greater Manchester, a lamppost was brought down at Manchester Airport's bus station.
No-one is believed to have been injured.
The lorry driver suffered minor injuries to his shoulder in the Barton Bridge incident and was taken to hospital.