A guide inside Manchester's new music: Public relations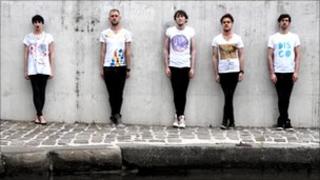 We all know an artist so good that they deserved a huge audience, chart success, a line of T-shirts and a duet with Justin Bieber.
Except they never got it, because not enough people heard them.
Writing good songs is always the most important part, but why have an amazing song if no-one hears it?
There are enough drab songs out there - check your mum's ringtone as a starting point - so your good song needs to compete.
Initially, you can email blogs, pester radio shows and meet your fans head-on at gigs to get your name out on Manchester's streets - but the new music world is based on a mish-mash of misplaced trust, favours and tightly-clutched contacts as much as it is on merit.
An unpalatable truth? Maybe, but PR companies know the right people, can drip your music into the right ears, and can put your songs where endless emails can't - if you can pay them.
An expert opinion
In House Press' Matthew Maxey bears the name and coiffure of a comic-book superhero, and I suppose to the bands who he has helped get big, he might be just that.
He's a genuine fan of new music; when we met, he immediately thrust a handful of promo CDs towards me and quickly enthused about each band.
For him, the line between working to pay the rent and simple enjoyment is broadly smudged - meeting me is part of his job, as is persuading bloggers to pass on his ebullient praise.
Specifically, Matthew's area is online press, which means "getting mp3s and videos up onto blogs, making sure singles and albums get reviewed, and making sure journalists get down to gigs to create a bit of a buzz".
For him, as soon as a band has recordings, "it'd be a good idea to get in touch with a press company, because with a few clicks, we can get in touch with 100 or 1000 journalists".
'They may get... lost'
It's a persuasive pitch - but every blogger's inbox is flooded with emails from bands doing just this, so what does a PR company do that they can't?
"We can get the music to journalists quickly - because we have all the contacts, and publications recognise that we have a history of working with good bands.
"They'll sit up and take notice if we say, 'we're working with this new band', whereas if a band contact these journalists themselves, well, they get 1000s of emails, so they may get... lost.
"I don't want to big us up too much, and say that having us work on your record is a stamp of approval - but we have a good idea of what each journalist likes, so we'll get in touch with the right person."
It is an important point for bands doing it themselves - a pop band will find little truck from a blog specialising in metal.
And a good PR company will know not only who to contact, but which bands to represent.
"Bands do contact us directly, but there's always someone out at a gig on any given night, and often we'll get in touch with a band that we've liked down the road at Night and Day."
Thus, the impetus to find good bands is with the company - by increasing their caché, the service for everyone improves.
Inevitably, this isn't free, and prices vary from "a few hundred to 1000s", depending on band and campaign.
'Build up as much buzz as possible'
So if you're in a band and you have songs but no recordings yet, what are the simplest steps to take for you to promote yourselves?
"Basically, the best thing is to get your two strongest songs recorded - they're the things people will listen to, and the momentum will get going from them.
"Build up as much buzz as possible on Twitter, with smaller blogs, with your friends, and get people to your shows."
People like Matthew represent the less obvious 'give and take' aspect of the music industry: the need for knowing the right people.
He is also hostage to one other oft forgotten, yet stone cold, fact.
PR companies, bloggers, and record labels all rely on a constant stream of new, good music.