Woman delivers new neighbour's baby in Bolton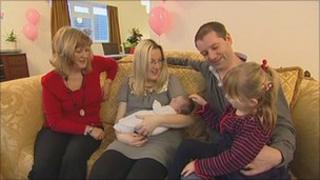 A woman helped deliver her neighbour's baby - just hours after meeting her for the first time.
Honor King invited her new neighbours Catherine and Andy Price round for a cup of tea on Wednesday, after they moved into their home in Bolton.
Soon after they left, Mr Price was knocking on the door to say his wife was in labour in the bathroom.
Mrs Price said: "She was so calm and wonderful. It must have been quite a shock."
Mrs King, who has had some first aid training, said Mrs Price had mentioned she was having a few twinges when she, her husband and their daughter Emily were at her house.
"I assured her I was like that for days," she said.
Minutes after returning home Catherine was started to give birth on the bathroom floor. Mr Price knocked on the next door for help.
"I quickly rushed to help and found Catherine on the bathroom floor, almost delivering the baby", Mrs King said.
"She was born a few minutes later.
"I just felt a head and a little baby slid into my hands and into my lap. I was just there with this amazing baby."
Mrs Price said she was a little embarrassed by baby Molly's arrival.
"You never expect to see your neighbours in that way do you," she added.
Mrs King said she will always have a connection with her young neighbour.
"She is always going to be special," she said.