Man jailed for murdering Martin Gallagher in Gorton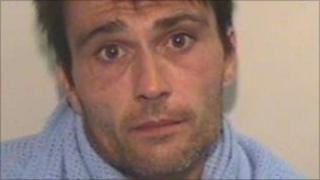 A man has been jailed for life for the murder of a 37-year-old man who was stabbed to death in Manchester.
Martin Gallagher was attacked in Sandringham Street, Gorton, after getting into a row with a group of men on 23 July last year.
He was taken to Manchester Royal Infirmary but died shortly afterwards.
Anthony Kevin Heaton, 39, of Windsor Street, Gorton, was convicted of murder at Manchester Crown Court and ordered to serve at least 23 years in prison.
Greater Manchester Police said Mr Gallagher was seen lying on the ground bleeding heavily after he was attacked.
Heaton left the scene in a car, but abandoned it and was arrested shortly afterwards.
Police searched an address on Sandringham Street and found a blood stained top and blood on the kitchen work surface.
Det Insp Chris Bridge said: "We cannot say for sure why these men got into an argument that night, however whatever the reason, Martin did not deserve to die.
"This case highlights the consequences of arming yourself with a weapon such as a knife as what may have been a fist fight has in this case become murder."