Family's anger as cyclist death case discontinued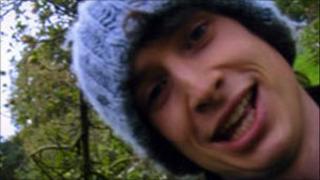 The family of a cyclist killed after being hit by a lorry have spoken of their anger after the case against the driver was discontinued.
Harry Wilmers, 25, died when he was struck by the vehicle in Old Trafford, Greater Manchester, in August 2009.
He was the partner of Rebecca Stephenson, daughter of Metropolitan Police chief Sir Paul Stephenson.
The driver was due to stand trial at Manchester Minshull Street Crown Court on causing death by careless driving.
Over the weekend the Crown Prosecution Service (CPS) decided to abandon the proceedings because expert evidence made it impossible to proceed to trial.
The cyclist's father, Peter Wilmers, of Rossendale in Lancashire, said: "It was very upsetting to attend a meeting with the CPS and review all the evidence, and even more distressing to learn that due to legal technicalities no charges will be pursued against the lorry driver.
"These technicalities and a poor process mean that there has been a great waste of both scarce public resources and of the superb police effort. But nothing can bring back our Harry."
Expert evidence
A CPS spokeswoman said: "Having reviewed the case we were satisfied that there was a realistic prospect of conviction on a charge of death by careless driving.
"There was no need at that stage to consider an alternative charge because, if the jury found that there was careless driving, but that the death was not linked to it, they could convict of an alternative offence of simple careless driving.
"As we approached the hearing date, expert evidence made it impossible to proceed to trial. Unfortunately, this meant that the jury could not consider an alternative verdict.
"The Crown Court could not try an offence of simple careless driving on its own as this is an offence that can only be heard in a magistrates' court."
The family's lawyer, Nadia Kerr, said: "Rebecca and Mr Wilmers' family are bitterly disappointed about the time it has taken for the CPS to reach the decision to discontinue proceedings and the proximity of the notification of that decision to the start of the trial.
"The CPS had the option of filing for an action based on the lesser charge of 'careless driving', but due to time limitations that course is not now likely to be open to them.
"At least now there will be an inquest in to the circumstances surrounding Mr Wilmers death.
"We will of course be looking closely at the findings of that inquest and advising our clients on any possible civil action."