Yoga teacher, 90, from Oldham in world record bid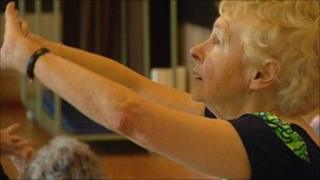 A 90-year-old woman from Greater Manchester is hoping to be recognised as the world's oldest yoga teacher.
Gladys Morris from Royton, Oldham, has been teaching yoga for 40 years and has been described as an "inspiration".
Friends and students are now writing to Guinness World Records to see if she can be entered in the record books.
If accepted, Mrs Morris would beat the current record holder by five years three months.
Linda Grime, 62, from Royton, has been studying yoga in Oldham for the past 15 years.
She is one of 40 women and one man who regularly attend Gladys Morris's class at Shaw Community Centre.
"She's so supple," she said.
"She can do handstands and she can do the plough, which is one when where you flick your legs over your head and put them on the floor behind."
Determined
According to Mrs Grime, Mrs Morris suffered from osteoporosis a few years ago and even damaged some bones in her back.
But she was determined to get back to teaching and Mrs Grime said she showed no sign of giving up.
"She does a class on Monday evening, one on Tuesday afternoon and two on Thursday evening," added Mrs Grime.
"For a 90-year-old, she's absolutely grand. She's an inspiration to us all."
Mrs Morris celebrated her 90th birthday on Monday by doing her usual evening class.
Guinness World Records currently list the world's oldest yoga teacher as Bette Calman from Victoria, Australia, who is 85.