Manchester City female official 'denied tunnel access'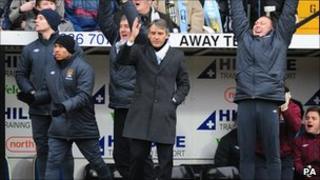 Manchester City is to make an official complaint over allegations a female official was denied access to Notts County's players' tunnel.
The club confirmed it plans to write to Notts County to voice its concern that its communications director, Vicky Kloss, was barred from the area.
Ms Kloss was trying to meet City manager Roberto Mancini after Sunday's 1-1 FA Cup draw with Notts County.
She said she was barred access because she was a woman, which County denied.
Ms Kloss had wanted to make contact with Mancini at Notts County's Meadow Lane stadium ahead of his post-match TV interviews when she was told by a steward she would not be allowed into the tunnel.
Notts County said Ms Kloss was not prevented from entering the area because of her gender but because she did not have the right pass.
A County spokesman said: "It's nothing to do with her being a woman. She was trying to get into an area without the correct accreditation."
City said a junior male colleague of Ms Kloss had been allowed to enter the same area five minutes earlier without being asked for a pass.