Firms fined for Blackburn steeplejack's death in Bolton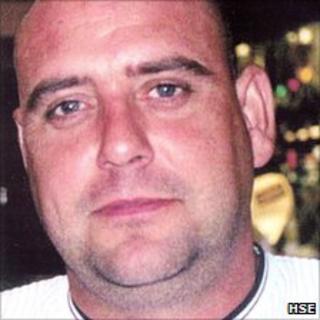 Two building companies have been fined after a steeplejack fell 50m (164ft) to his death in Bolton.
John Alty, 40, from Blackburn, was working at the top of a disused chimney in Great Lever in June 2007 when the scaffolding collapsed.
Mr Alty died at the foot of the Grade II-listed structure but his colleague survived after clinging to a ladder.
Bailey International Steeplejack Company and Ken Brogden Ltd admitted breaching health and safety laws.
The men, who had been repairing brickwork on the chimney, had been taking down the scaffolding when it gave way.
'Very difficult'
An investigation by the Health and Safety Executive (HSE) concluded that the firm had not used strong enough anchor fixings to attach the scaffolding to the chimney and had failed to test the fittings before they were used.
Bailey International, of Bollington, Macclesfield - which employed the men - was fined £75,000 and ordered to pay £80,000 in costs by Manchester Minshull Street Crown Court.
Ken Brogden Ltd, of Heywood, Greater Manchester - which had failed to carry out adequate repairs on the equipment - was fined £10,000 with costs of £16,000.
Mr Alty had separated from his wife, Angela - the mother of his daughter - shortly before his death.
In a statement released after the hearing, she said: "Things have been very difficult since John passed away. A big hole has been left in both our lives.
"The way his death happened is difficult to come to terms with. I often sit and wonder what if I had given my marriage another go.
"Maybe we would have gone away and he wouldn't have been on that chimney."
HSE Inspector Stuart Kitchingman said: "If the work had been properly managed, and carried out to industry standards, then Mr Alty would still be alive today.
"Working as a steeplejack is a potentially dangerous job, and they need to be able to rely on their employers to provide equipment that keeps them safe.
"Unfortunately, the scaffolding and fixings that were provided simply weren't up to the job."