Greater Manchester children and elderly fares rise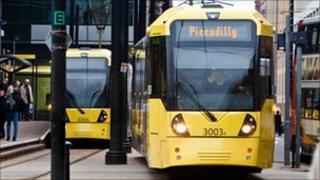 Concessionary fares for schoolchildren and the elderly on public transport in Greater Manchester are to be increased to off-set a budget freeze.
The standard 80p concessionary fare will be raised from April to half the adult tariff by the Greater Manchester Integrated Transport Authority. (GMITA)
It follows a government freeze on its £270m annual budget despite running costs rising by six per cent.
Off-peak elderly travel remains free but will be half fare before 0930hrs.
'Fairest solution'
The GMITA is expected to rubber stamp its recommendation at a meeting on 11 February.
The proposal followed a recommendation by the Association of Greater Manchester Authorities not to change the transport levy for the county's ten authorities.
Ian Macdonald, Tory chairman of the Greater Manchester Integrated Transport Authority said: "It's not what we would have chosen to do, but there's no rational alternative.
"We've been told by the government not to increase our budget, but with the rise in fuel costs and everything else we'd effectively require a six per cent increase this year, just to keep things at the level they were.
"We could have looked at cutting support buses to outlying areas to make the savings, but that would have meant that children in those parts couldn't get to school at all.
"Increasing concessionary fares for under-16s and the elderly at peak times seemed the fairest solution.
"In fact half fares for school children aren't too severe as plenty of children in other regions have only ever had half fares."
Denton and Reddish MP Andrew Gwynne, Labour's bus and concessionary fares spokesperson said: "It really is a double whammy for young people who have been clobbered nationally by the Tory led Government with the Educational Maintenance Allowance being scrapped.
"Now they are being clobbered locally by the Tory/Lib Dem run Integrated Transport Authority who have scrapped cheap fares."
"It's also really disappointing for elderly people who rely on the concessionary fare as a lifeline to help them to be more independent and allow them to visit family and friends."