Bury Council's equal pay claim appeal rejected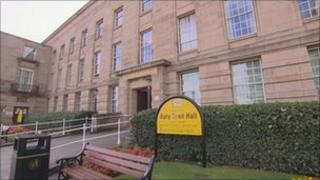 Hundreds of women working at a Greater Manchester council are in line for compensation after an equal pay case.
Bury Metropolitan Borough Council had appealed against a tribunal ruling that women were entitled to the same bonuses as men in similar low-paid jobs.
Unison said the women could now be in line for the equivalent of up to four years' back pay after the decision was upheld by an appeal tribunal.
Bury Council said the judgement would have "major ramifications".
The decision concerns women in mainly lower paid work, including carers, catering assistants, cooks, cleaners, domestic assistants, school crossing patrol attendants and home carers. They were paid less than male workers doing comparable jobs.
Home carer Bev Hodkinson, who began her fight four-and-a-half years ago said she was elated at the ruling and said: "Finally I think we've got justice."
But she said as a ratepayer she was disgusted that the council had wasted money.
"They knew about this four-and-a-half years ago when the economy wasn't in the dire situation it is now. If they had paid out then it wouldn't have had any effect on jobs," she added.
Steve Stott, of Unison, said: "We are satisfied this judgment now paves the way for the council to pay all those affected staff the money they are legally entitled to.
"We will now be pushing the council to apply for capitalisation funds, which will allow them to spread the cost of the equal pay settlements over a longer period.
"Better managed councils resolved most of their past equal pay problems long before the present crisis."
In 2009, a panel in Manchester rejected the authority's claims that male staff were paid more because of a "genuine material factor", paving the way for the compensation.
'Legal considerations'
The council originally faced about 1,400 claims, but settled 675 of them.
Unison said it was representing about 900 women, some of whom worked multiple jobs and had therefore lodged multiple claims.
A council spokesman said: "We have received the judgement from the Employment Appeals Tribunal which could have major ramifications, not least for the taxpayers of Bury.
"As such, we will study the judgement closely with our legal advisors and decide what action to take.
"Our decision to appeal was not taken lightly, but followed leading counsel's advice and because we believed our case was legitimate and strong.
"The council has a duty to safeguard taxpayers' money, a responsibility it takes seriously at all times. We faced claims from more than 1,400 people which, if upheld, could have cost the council - and local taxpayers - many millions of pounds.
"It was always our argument that we had paid both men and women fairly for the jobs they were doing, and that any bonus payments in the past were legitimate and due to other factors, not the employee's sex."