Mother's 'year-long wait' to identify Panama body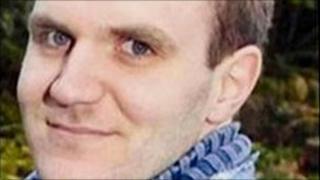 The mother of a backpacker who went missing in Panama has said she has been waiting for a year to establish whether a badly burned body is that of her son.
Alex Humphreys, 29, from Stockport, disappeared in Chiriqui in August 2009.
His mother Gill said Interpol Panama should have contacted Interpol in the UK to arrange for DNA from a male relative to be tested against the body.
Deputy Commissioner Alexis Muñoz, head of Interpol Panama, said he would support the family.
'Indescribable frustration'
Mrs Humphrey said: "We are meeting diplomatic blocks every time we move.
"It is incredibly frustrating. You just meet a wall of silence.
"If you ask someone something and they say no then you can argue with them but if they say nothing there is absolutely nothing you can do about it. The frustration is indescribable."
She added: "I don't know how to move on when there is a body in a morgue in Panama that might be Alex."
Mr Humphrey was last seen by the owner of the hostel he was staying at in Boquete, Chiriqui, near the Costa Rican border.
He left all his belongings and only had with him his passport, credit card and a few dollars.
In a statement, Mr Muñoz said he had not received any contact from the family since he took up his role in May 2010.
He said they had recently received an offer, via Interpol in the UK, for Greater Manchester Police to take DNA samples from male members of Mr Humphrey's family and send them to Panama for comparison.
The offer was being considered by the public prosecutor, he said.