Urmston incinerator plan goes to Environment Agency consultation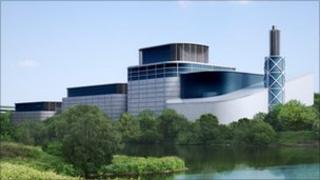 Plans to open a biomass incinerator in Greater Manchester are being examined by the Environment Agency.
Peel Energy Limited want to operate the facility in Trafford, creating energy for up to 37,000 homes.
Campaigners against the Barton Renewable Energy Plant are concerned it would pump pollutants into the air around Urmston.
The proposed plant would need planning permission and an environmental permit before it could operate.
The Environment Agency opened a consultation on Thursday to decide whether or not to grant the environmental permit.
The facility will burn mainly wood at high temperature and use the energy created to generate electricity.
Gordon Whitaker, Environment Agency's environment manager for Greater Manchester, said: "We appreciate there is a high level of interest in this application.
"We understand the importance of consulting with members of the local community, the local authorities and the health authority for their views of the potential effect on the environment and public health."
Peel Energy Project Director Jon England said: "The plant would generate safe and reliable renewable electricity and would be primarily fuelled by waste wood that currently ends up in landfill."