Colm Toibin to succeed Martin Amis in university role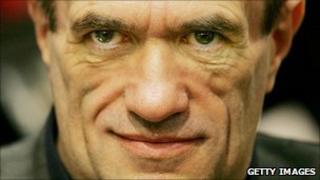 The University of Manchester has named acclaimed novelist Colm Toibin as its new professor of creative writing.
The Irish writer, who has twice been nominated for the Booker Prize, will take over from Martin Amis in September.
Professor Amis is leaving Manchester to live with his wife in New York.
He said that he had found the people of Manchester "a witty and tolerant contingent" during his tenure.
The University of Manchester is hoping that its new appointment will have a similar effect as the appointment of Mr Amis.
Amis' arrival saw a 100% increase in applications to courses at the institution's Centre of Creative Writing.
'Terrific addition'
The centre's co-director John McAuliffe said that "Martin has been a terrific addition to Manchester".
"His presence drew high calibre students to the centre.
"His readings of classic fiction for seminars and his hugely popular public events act as a model of engagement with literature and its 21st Century contexts for writers now and in future.
"Colm Toibin, a great writer and a public intellectual, will be a similarly iconic appointment, inspiring students as well as contributing to cultural debates inside and outside the university."
Professor Toibin said he was "looking forward to starting at Manchester in September".
Adding: "I visited the centre for a reading two years ago and I saw and liked how the students combined writing new work with reading and talking about literature."
Martin Amis held the post at the university for the past four years and said he was leaving "purely for family reasons".
He explained that "teaching creative writing at Manchester has been a joy" and that he had "become very fond of my colleagues, especially John McAuliffe and Ian McGuire".
He added that he "loved doing all the reading and the talking; and I very much took to the Mancunians.
"They are a witty and tolerant contingent".
Professor Toibin will leave his present post at New Jersey's Princeton University to take up the new role in Autumn.
He will have the same duties as his predecessor, teaching postgraduate students for two days a week at the university for one semester a year and taking part in four public events.